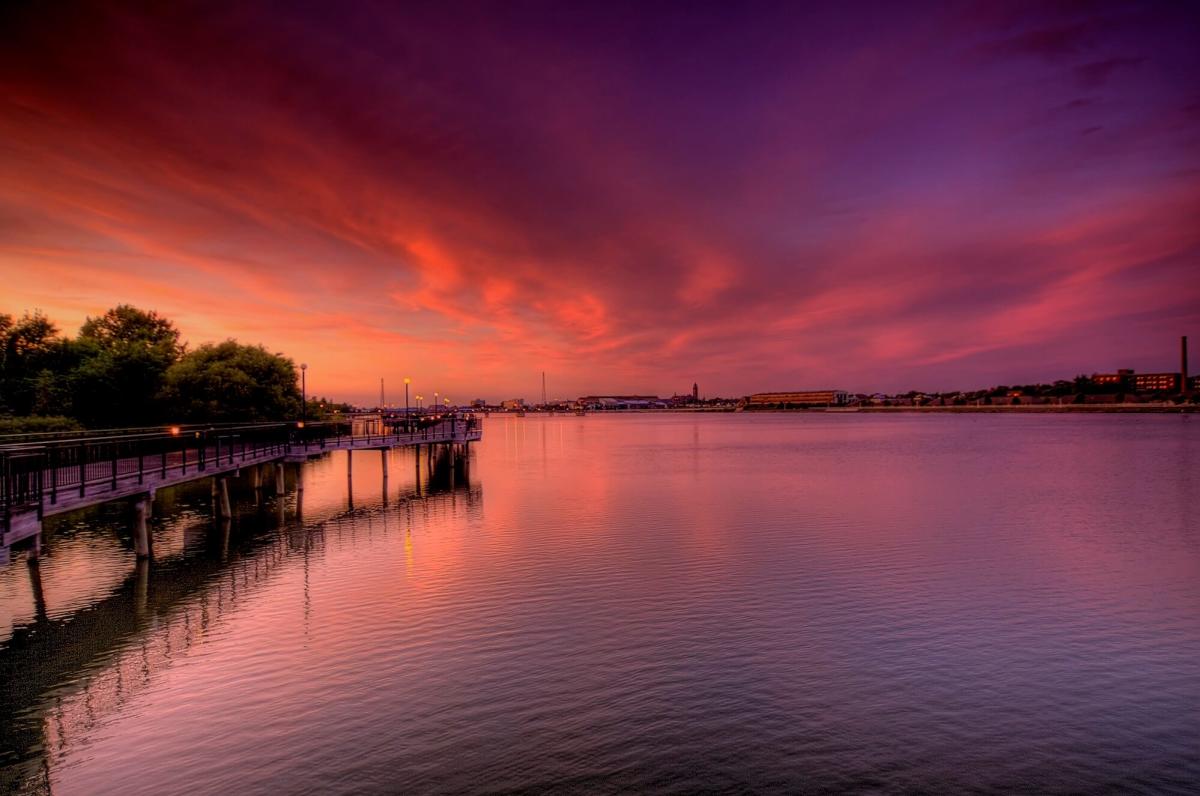 ---
Lake Huron's Saginaw Bay is 'big water,' packed with big fish, and served by a big fleet of savvy charter fishing boat captains. All that's missing in this "big" picture is you!
---
The Bay has won an international reputation for splendid walleye fishing, thanks to restoration jump-starting plants of fish decades ago and, now, a resident population that sustains itself despite the thousands of fish thousands of anglers catch each year. In fact, fish are so abundant that minimum lengths have been shortened, and creel limits lifted to eight fish per angler!
A great way to connect on these fish is engaging a charter captain. Licensed charter boats are inspected by the DNR and their captains licensed by the U.S. Coast Guard. Boats are equipped with the latest electronics and other fishing gear. Their captains know how walleyes move through the Saginaw Bay watershed, and where, when and how to catch them.
So, thanks to the ready expertise of charter captains, you don't need to be an accomplished angler — or an angler at all — to enjoy a fish-catching day on the Bay. (But if you are... consider a charter fee thrifty tuition toward a walleye higher education: learn how to rig your boat and catch more fish yourself by watching how the pros do it.)
Tips for Enjoying a Charter Fishing Trip
Tips are always appreciated! That's true whether you're a boat's first mate (not so subtle suggestion here — he or she typically works for tips) or a client looking to make the most of a day on the Bay. Here are some tips for enjoying a charter trip:
Make sure you secure a season or one-day Michigan fishing license
Bring food and beverages, but no glass bottles
Bring good judgment; heavy drinking and boats are a bad mix
Don't forget your cell phone or camera
Pack clothing to match possible weather changes
Make sure you have sunscreen, sunglasses, hat, raingear, soft-soled shoes
Beware mal de mer; bring seasick medicine or device (band, etc.)
Don't forget a cooler; fish cleaning is included in nearly all charters!
If your party is too large for a single boat, most captains can help arrange another
Saginaw Bay Walleye Fishing Charters
Saginaw Bay has an extensive fleet of charter fishing services. Here's a sampler to get you started:
Capt. Jeff Godi's Michigan-X, based at Linwood Beach Marina, focuses on Saginaw Bay's walleyes from spring through summer. The enclosed, hard-topped 29-foot Baja Fisherman has an enclosed head (restroom) and protection from the elements, providing indoor comfort as well as outdoor adventure. "Want to get involved?" Godi's website asks. "Help set lines and net fish; it's your day." Great way to learn while having fun. Or, relax and let captain and crew handle all but the fish-fighting. Michigan-X's five-hour morning and afternoon/evening charters are at $500 per party of up to four anglers. An eight-hour, all-day charter is $750 for four. Half- or full-day, add $50 each for up to two more anglers. Capt. Jeff also guides hunters to ducks and geese in the fall, and ice anglers to the Bay's abundant winter walleyes.
Capt. Dick Donovan, in his 29-foot flybridge Cruiser Adventure 1, brings more than 30 years of Great Lakes experience to the chase for Saginaw Bay walleyes, mid-May through July, and again September-November. "You can choose your level of involvement," says the Adventure 1 website, meaning you can relax, or help set lines and net fish. Either way, enjoy a Bay-taming ride in the big boat, with full-size marine restroom and enclosed cabin. Adventure 1, based at Linwood Beach Marina, makes half day (morning or afternoon) outings, and full-day trips. Fees are based on parties of up to four: half-day is $500 and full-day $700. Additional anglers are $75 each. Mid-summer, Donovan charters for salmon and trout at Manistee on Lake Michigan; come winter he guides ice anglers to Saginaw Bay walleyes. Unusual Bay offerings are perch trips in September and October, and small-boat trolling or jigging for walleyes in early spring or fall.
From May through July, Capt. Mike Jablonski puts his 40 years of fishing experience to work on his boat Fishin' Finn-Atics, pulling walleyes — eaters to wall-hangers — from Saginaw Bay. Fishin' Finn-Atics departs from the mouth of the Saginaw River at Bay City — handy to lodging, dining and entertainment of all kinds. Morning adventures are 6 - 11 a.m., unless a limit is boated first. Afternoon charters are 2 - 7 p.m., unless a limit comes quicker. For parties of one to four anglers the fee is $500, plus $75 each for a fifth and/or sixth angler. Active and current military members get discounts. The Fishin' Finn-Atics is a 299 Baha Cruisers Fisherman, featuring a large open cockpit; there's also plenty of room under the hardtop if sun or rain become an issue, and a private head/restroom. Capt. Jablonski and his boat head for Manistee August 1, to fish for salmon, steelhead and trout.
On Capt. Ed Patnode's Edventure II, a 29-foot Cruiser docked at Linwood Beach Marina, trips are custom-designed to be peaceful or high-adventure, kid-friendly or settings for reunions or other special events. Capt. Ed calls June his best fishing month — but adds that outings in the sometimes-cooler month of May can also be great. He stays with the Bay through summer, too. Custom meal and beverage arrangements are available, as is pickup for private plane charters. Edventure II also offers one-time and recurring training charters, with detailed instruction on rods and reels, electronics, bait, lures, depth control, trolling and other techniques. Besides catching 'em, Captain Ed and his first mate know how to cook 'em, too, and share favorite and unusual recipes in person and on their blog. Half-day (five-hour) trips are $450 for one to five people; full-day (eight-hour) outings are $700. Up to two more people can join for $75 each.
A Michigan native with more than 20 years of Great Lakes fishing experience, Capt. Jay Gallagher has his agile 25-foot Trophy, the twin-225-HP Mercury-powered Trophy Hunter, poised to take you from Linwood Beach Marina to where the fish are. Where most charters welcome parties as large as six anglers, the Trophy Hunter is set up for one to three, for a little more intimate encounter with the Bay and its fish. Capt. Jay notes that his boat is in the water and ready April 1, and that spring offers some of the best chances at a hog walleye of 10 pounds or more! A six-hour (half-day) adventure for one to three people is $400; eight hours (full-day) for one to three anglers is $500. Like most of our featured charters, this Michigan-native captain heads for Manistee come mid-summer to troll for salmon and trout. Then, back to the Bay, where he guides throughout the ice fishing season, too.
Captain Scott Devuyst launches his Bay City Yacht Club-based charter season on the Rock'N'Reel, a 30-foot, twin-250 HP Yamaha-powered Hydrasports VX, on May 1. That begins what he calls prime time to catch some of the Bay's biggest lunkers, just dropped-back from upstream spawning areas. Brown trout, lake trout, salmon and steelhead sometimes mix into the early-season catch, payoff for the warm clothing the early season often requires. Then comes June and July, the heart of the Bay's open-water walleye season. Enough other species mix into the catch that Capt. Scott calls it "a great time to get kids interested in fishing, as they have little time to get bored!" In August, Devuyst moves his charter operation to Manistee for its Lake Michigan salmon and trout.
Morning and afternoon half-day walleye trips are $450 for up to six people.
Captains Don Stefanski and Ron Bischer dock their Tiara 2900 Open Fisherman, the Overkill, at the Bay City Yacht Club at the mouth of the Saginaw River from late April through mid-July — or from the flurry of the big-fish, drop-back spring through the productive heart of the late-spring, early-summer season. A six-hour morning trip, 7 a.m. - 1 p.m. is $450 for up to four passengers, $50 for up to two more; a five-hour afternoon outing, 3-8 p.m., is $400 plus $50 each for a fifth or sixth angler. Trip times can be adjusted. Overkill moves to Ludington for Lake Michigan salmon fishing mid-July through September.
Gypsea most often heads out from Bay City in search of walleyes, but Capt. Shane Dietrich also offers Saginaw Bay perch charters for those who love this tastiest of panfish. (Perch, cousins of walleyes, seem to be rebounding in the Bay, too.) The 28-foot Cherokee's 11-foot beam makes it especially stable. There's plenty of open fishing space, plus a hard-top and drop curtain to ward off the elements. A small cuddy cabin contains a bathroom. Walleye charters for up to four anglers are $450 for a six-hour half-day and $700 for a 10-hour full day; add $50 per person for fifth and sixth anglers. Perch charters are $350 for a half-day and $600 for a full day, plus extra-angler fees. The Gypsea is "dog friendly" and, Capt. Shanes boasts, "kids are welcome and adults are tolerated." For walleye fishing, clients can choose to rig and tend rods themselves, or leave that to the captain and just focus on reeling in fish.
Bootyfull is a 27' Tiara Pursuit Open powered by twin 5.7 Volvo Penta Chevy engines, moored during the walleye season at Sunset Shores Yacht Club in Bay City. Capt. Tony Childs is a custom rod-builder, too, and the Bootyfull is equipped with his Eyefull custom rods. Captain Tony prides himself on accommodating anglers with disabilities; contact him to discuss your individual situation. Half-day trips are $450, full-day $600, with a discount for two-day packages. Three-hour River / Bay cruises are also available. Come midsummer, Capt. Tony heads for Holland on Lake Michigan where he runs salmon charters, and from which he fans out to compete in top-level salmon fishing tournaments.
Captain Brian Standen fishes out of the Sunset Shores Yacht Club at the mouth of the Saginaw River at Bay City from May 15 through July 15, offering both morning and evening trips. Our Reel Heroes is a 31-ft. Tiara, whose 12-foot beam provides a stable ride, plenty of seating, lots of open floor space and a spacious bathroom. Relaxed or hard-charging — your kind of trip is up to you. Rates are $500 for four people, an extra $50 each for a fifth and sixth person. Ten percent of proceeds goes to provide families of fallen soldiers and veterans low or no-cost fishing opportunities; active-duty military personnel receive a discount. Our Reel Heroes heads for Manistee July 15 to fish for salmon, trout and steelhead.
Captain Darrin Howard has been an avid fisherman for more than 35 years, and has a 50-ton U.S. Coast Guard master captain license. His boat, Reel Respect, is a trailerable 2001 Proline 26 Walk, a 27 1/2 foot offshore fishing vessel, powered by triple four-stroke outboard engines. Based at Linwood Beach Marina and a Saginaw Bay spring and summer walleye specialist, Capt. Darrin and the Reel Respect also travel to take on lake trout at Lake Superior's Stannard Rock, walleye and perch on Lake Erie, salmon on Lake Michigan at Manistee — and even Bluefin tuna on a week-long adventure out of Gloucester, MA. Walleye charter rates on the no-smoking Reel Respect are for one to four anglers. Five-hour morning or afternoon trips less than 12 miles offshore are $450; for destinations beyond 12 miles it's $550. All-day, eight-hour trips are $700 within 12 miles, $850 beyond.
Capt. Doug McQueen's Windrift, a 30-foot Sea Ray Express Cruiser, leaves Linwood Beach Marina at 7 a.m. for a walleye adventure that lasts until noon unless a limit is boated first. The boat is fully equipped, including 29 pole holders and a stand-up head. The Windrift plies Saginaw Bay for walleyes throughout June and July; Capt. Doug said he has added a second, smaller boat for August through October outings for perch and river fishing. (Non-anglers might explore Windrift's sunset cruises or scenic river rides.) Walleye charters are $500 for up to four anglers; a fifth person brings an additional $50 fee.
Capt. Tim Mann docks the Get-N-Bigger, a 28-foot, 6-inch Baha, at Linwood Beach Marina. It's 10-foot, 6-inch beam makes it a stable fishing platform, and its twin V8 engines make quick work of distances. Get-N-Bigger runs walleye outings from May through mid-July. A five-hour-or-limit morning or afternoon trip is $450 for up to four people, $50 extra each for a fifth and/or sixth angler. A full-day, eight-hour trip is $700 for one to four, $50 each extra for up to two more people. Capt. Tim also offers perch fishing trips September through November; contact him for prices.
Capt. Mike Smith's 19-ft., 5-in. Starcraft, Offshore-A-Count, launches from the Bay port that provides the best walleye action. (The only qualification is that if the launch point doesn't have fish cleaning facilities, clients will take their fish home uncleaned.) Clients are free to set lines and net fish if they wish. Fees for Saginaw Bay walleye trips are $325 for a five-hour trip for up to three anglers, $425 for eight hours for one to three people. Besides Bay walleyes, Capt. Mike also charters for Lake Michigan salmon; guides for Saginaw, Tittabawassee and Detroit river openwater walleyes and inland openwater crappies; and leads anglers to ice fishing action on Saginaw Bay and inland waters.
III Bratts is a trailerable, 25-foot hardtop Sportcraft with a private restroom, running water, table, and room to store your belongings out of the weather. Capt. Randy Bailey, a licensed merchant marine officer with 25 years' experience fishing the Great Lakes, will teach clients, if they desire, how to set up rods, baits and net fish to get them more involved — or they can just sit back and reel in fish. III Bratts can accommodate people with disabilities, and welcomes entire families. The boat is moored at Linwood Beach Marina from May to late July (after which it moves to Manistee for salmon and trout.)