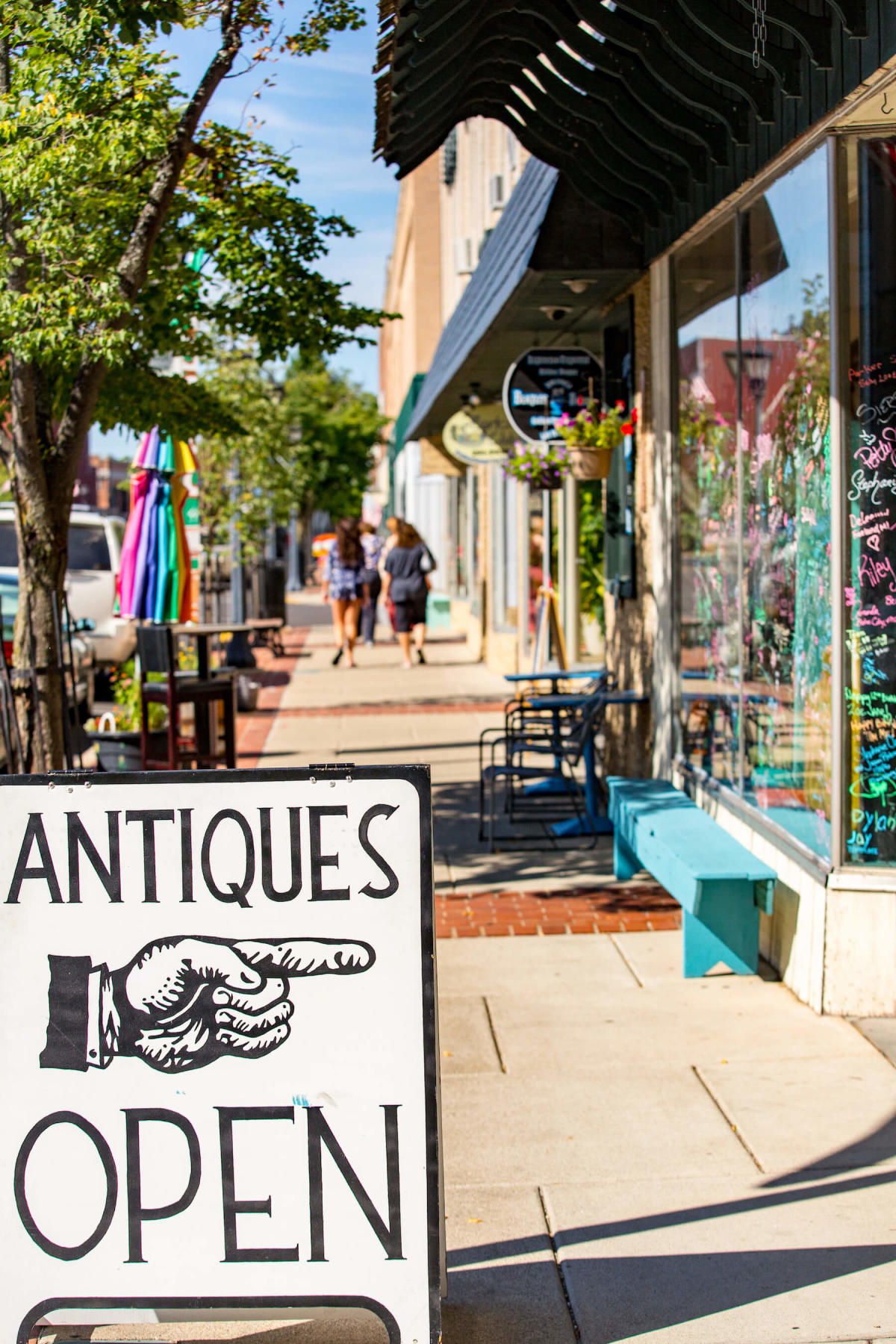 ---
Home to Michigan's largest antique center (housed fittingly in an historic downtown building) and an annual antique festival of epic proportions — with smaller shops sprinkled throughout — the Great Lakes Bay is full of opportunity to uncover timeless treasures.
---
COVID-19 Update:
As we welcome you back, we'll be doing our best to keep you in the loop on what's open & closed in the Great Lakes Bay Region. Just look for the orange banners below on our partner listings as you start planning for your next trip!


While we all navigate this new normal, some experiences may be slightly different, and some businesses may only be partially reopened. Please check with the individual businesses for their reopening status, new hours of operation, and updated policies before visiting!
---
Antique Shops in Bay City, MI
Bay City Antiques Center/Bay Antique Center: Prepare yourself, folks, for this antique mecca! The largest of its kind in Michigan and voted "Best Antique Mall" by AAA, this center is more than 60,000 square feet of more than 400 booths showcasing regional dealer displays along with European imported antiques. Friendly tips? Learn the floor plan and reserve ample time to thoroughly enjoy this mother load.
Americana Company Antique Mall: American nostalgia runs deep in the heart of Bay City's historic "Hell's Half Mile" at Americana Company Antiques. Here you'll find an eclectic mix of unique antiquities, and a warm, friendly ambiance. (Psst! Right across the street is an historic candy shop, operating since 1904, St. Laurent Brothers. If homemade candies, assorted nuts, and hand dipped chocolates sound like they'd add to your antiquing outing, look for the red and white striped awning and enjoy!)
Retro Attics: Making millennials to seniors, antiquing divas to vintage aficionados all squeal with delight, Bay City's Retro Attics is an antique and vintage shop offering a smattering of mid-century modern finds and 1950s - 1980s nostalgia items, including clothing and furniture. 
Antique Shops in Saginaw, MI
Antique Warehouse: Peruse antiques and collectibles amongst 20,000 square feet and 70 dealers offering furniture, clocks, china, glassware and more! Also, enjoy shopping one of Antique Warehouse's 12 specialty shops and consider having lunch on site at The Memory Lane Café. 
Freeland Antique Mall: With more than 16,000 square feet of traditional and one-of-a-kind antique finds, visitors refer to the Freeland Antique Mall as a "destination place"! And, be sure to also discover The Iron Gate Emporium (marketplace of vintage, antique, shabby, industrial, made-in-Michigan, and more) and Thrifty Treasures Antiques & More, both located in nearby Birch Run.
Adomaitis Antiques: Located in Old Town Saginaw, Adomaitis Antiques is known for its exceptional prices and specialized selection of estate sale and consignment items, plus an estimated 10,000 professional quality adult costumes and vintage clothing pieces!
Court Street Antiques: Have fun browsing this historic building, brimming with character, and say you've covered all 5,000 square feet of this special vintage, antique, and upcycle shop!
Antique Shops in Midland, MI
Michigan Antique Festivals: More than 50 years, more than 80 acres, Michigan's largest antique & vintage market is Michigan Antique Festivals, and can be experienced each May and September right here in Midland! With seven barns overflowing with antiques and unique "stuff you just can't find online", the Shabby Experience and Industrial Way area for shabby chic enthusiasts, a car show, auto swap meet, and more — enjoy every last acre!
Treasures on Townsend: Be sure to visit this 1870s house, a consignment shop for the home with unique antiques, fine home furnishings, and a re-design team who can transform pieces to perfectly match the style of your home.
Antique shoppers do know how to shop, don't they? Taking a leisurely pace, looking around for unique pieces of history and antiquated beauty, finding potential and envisioning restoring items back to life. Ahhh, enjoy multiple antiquing outings and all of your finds!